CUHK MBA Flies Flag For Women In Business At H&M's Asia HQ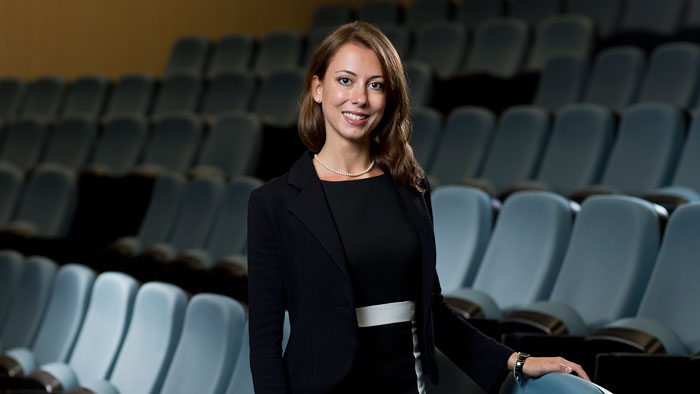 Paola Perversi-Karlsson is an MBA grad at the forefront of fast fashion.
Media Coverage by BusinessBecause:
Based in H&M's global production offices in Hong Kong, she's working with colleagues in her native Italy, Sweden and Shanghai to make the fashion giant's business processes faster, cheaper and more sustainable.
With a background in beauty, Paola is not your typical MBA grad. After quitting her job in Italy, she relocated thousands of miles across the world to study at Hong Kong's CUHK Business School, choosing Asia over the US and Europe for her MBA.
Her aim: to take the career leap, to try something different, and to build a distinctive professional profile which would help her stand out from the crowd.
At CUHK, she was co-president of the women in business club, organizing events to inspire students promote the role of women in business in Asia. Now, she's a prominent female figure at one of the world's top fashion firms, exploring areas of business that she's never explored before. It's a mission accomplished.
Why did you decide to pursue an MBA in Hong Kong?
I felt a bit stuck in my career. I wanted to explore something new and challenge myself.
I could have picked the US, but to get better opportunities for the future I wanted something different. Asia would spice up my profile.
Why did you choose to study at CUHK in particular?
The history of the school; it's the first MBA in Hong Kong. And it has a strong focus on China. CUHK is international, but you have a concentration in China studies, case studies on Chinese model companies and Chinese finance.
In terms of my background, CUHK was extremely open. And they had some classes in luxury management which were super-interesting.
What advice do you have for MBA applicants looking to do the same?
Hong Kong is an amazing, very multicultural city. But prepare for a cultural shock; not only in the city, but also in the school. CUHK has both international professors and Chinese professors, with different teaching methods.
Coming from Italy, where at university you just study from and read a book and that's it, I was not used to participating in class discussions. You need to try to speak during classes, go to all the networking events and meet new people.
Why did you get involved in the women in business club at CUHK?
I wanted to inspire students, to change something or at least understand more.
As a woman in Italy, it's not very common to leave a permanent job when you're 30 and decide to go and study. Usually, you're married, you have kids, and that's it! Coming from a country where women are not in the higher levels of companies, I wanted to understand the experiences of others.
Tell me something about working at H&M that most people wouldn't know.
At H&M, more than 50% of the management positions are covered by women. It's a very flat organization; you don't grow in levels, you grow horizontally and you can explore different areas.
It's very Swedish; we work till 5:30/6pm, then we go out. We're colleagues, but we're also friends.
What does H&M look for in its job applicants?
You need to show that you are a humble person, that you're ready to learn new things, and that you're not afraid to challenge yourself and do something that you've never done before.
How has an MBA helped you in your career?
When I joined I thought I was very open-minded, but I soon understood that I was not! We always see from our perspective, and I had the Italian perspective.
At CUHK, I really widened my mindset. And it's helping a lot; at H&M I work with teams in China and Sweden, so I'm trying to manage the cultural differences between the two.
Media: BusinessBecause.com
Section: News / MBA Hong Kong
Date published: Aug 18, 2016