MBA Connect Story: Building Trust and Good Reputation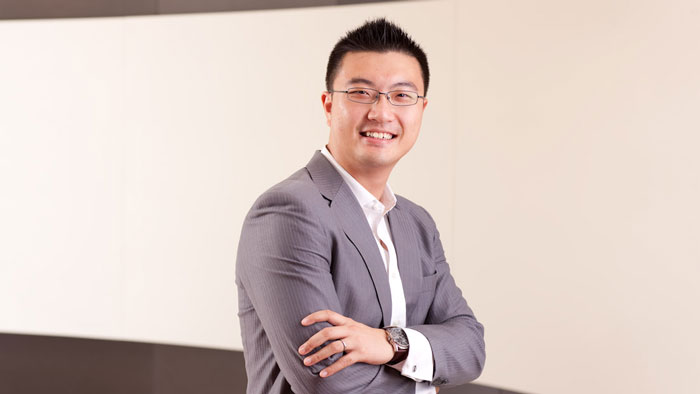 Jeffrey Ng (Part-time, Class of 2012)
Artificial Intelligence Developer
Coordinator of Greater China, Global Coverage Solutions
Head of Global Coverage Solution, Hong Kong
BNP Paribas
Jeffrey Ng got into data science 11 years ago, while working for GE Money. At the time, data science was not quite as glamourous as being a banker, but Jeffrey fell for machine learning in business context during his coursework at university. Graduating with degrees in computing and management, his first job involved building predictions for which customers of GE Money needed financing via a variety of loans or insurance.
"I got into data science even before it was called data science," he says.
A couple of years later he joined PwC as senior associate, consulting mainly with mainland Chinese banks. Using data analytics, he built quantitative models to advise clients on managing their loan portfolio and predict the probability of bankruptcy, with projects including portfolio management, capital stress testing, credit risk modelling, and others.
Working with highly intellectual clients in China and seeing the need for soft skills to win business and trust inspired him to do an MBA at CUHK in 2010, the year he also changed jobs to join BNP Paribas Corporate and Institutional Banking as a Business Analyst.
"I like solving problems. PwC was a dream career, but my family wanted me to travel less. I spent 95 per cent of my time in China," he says about changing jobs. He adds that as a consultant one is unable to influence execution, which is purely in the hands of the client, and therefore he was looking for a job where he could be more hands-on during the execution process.
Doing a part-time MBA while holding down a job is not easy, especially if it is a new job. But, he says, the Outward Bound training at the beginning of the MBA program deeply impressed upon him the value of steadfastness and showed him what he could achieve. For his MBA he chose finance concentration, while at work he helped build a team as a start-up. In just over three years he was promoted to Manager and in another two to Head of Global Coverage Solutions, Hong Kong.
"As I moved to a corporate and institutional bank in Hong Kong, doing finance concentration allowed me to understand different parts of the bank without actually working in those departments," he says. "In addition, common modules, such as strategic management, inspired me to change the organization one step at a time."
Jeffrey is grateful to the MBA and his professors who have helped him to understand his talents and passion.
He says, "I expected myself to become a client-facing banker, but the MBA allowed me to appreciate what I am good at, which is data crunching. Knowing that I like data science, my professor advised me to stick to it. 'It won't guarantee you success, but you won't regret it,' he told me."
He treasures the close relationships he built with some of his classmates. He still meets some of them regularly, goes running with others, and as a class representative, he organizes the annual class gatherings.
"The relationships with my ex-classmates are more genuine, they are not based on how much you earn and what your title is," he says.
Jeffrey has been in his present position as Coordinator of Greater China, Global Coverage Solutions for 11 months and one of his functions is to ensure business insight is implemented and executed with measurable results. He is also a fintech watcher who regularly blogs to clear his thoughts and start a conversation about fintech and start-ups.
He has recently received recognition with another job title as Artificial Intelligence Developer, and helped the bank to start a block chain project with the Hong Kong Monetary Authority. The CUHK MBA alumni network helps move the project by connecting him to some partner companies for cooperation. To give back to society, he stated teaching high school kids to write apps and do data mining.
He says, "I feel the CUHK MBA is a rare gem in the market. I like the human touch to the program. They don't treat the MBA as a money-making machine. They still put social responsibility at the heart of the course. This is an MBA program with a soul, not only to make money."