MBA Connect Story: From West to East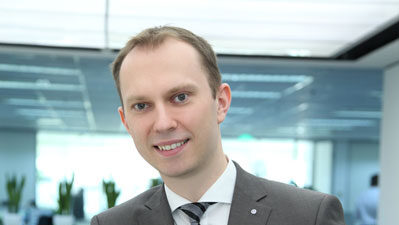 Thomas Lesinski (Full-time Class of 2009)
Project Manager, Volkswagen Consulting China
The MBA journey is life-changing, even when your horizons are already broad. Our alumnus, Thomas Lesinski, early followed his passion for other countries, eventually graduating with a CUHK MBA in 2009.
Volkswagen Consulting then lured him back to Germany until he relocated to China in 2013. Thomas recently recounted his experience of crossing from West to East, offering insightful observations about China's business culture. He also gave practical tips for developing a career in Asia.
-About MBA Studies-
What motivated you to take an MBA degree? And why Asia?
I came from a small town at the edge of Berlin. I discovered my interest in foreign countries at an early age and followed my passion ever after. I spent my school years in Australia, Spain and Germany, and I have worked for several companies as a consultant in both Germany and China during and after my undergraduate studies. I would say I prepared myself to be culturally adaptive long before I came to Hong Kong for my MBA study.
I'm convinced that an MBA can provide a person with a strong base for rapid personal and professional development as well as future career progress. After my short experience with a Chinese consulting firm, I was hoping that an MBA could help me with a career opportunity back in Asia or China. I was always very interested in Asia, especially China. The cities are always fueled by the diversity of people, cultures as well as languages. One of my lifetime goals is to speak Mandarin fluently though I'm definitely far from reaching this goal, as my colleagues would agree…
Can you share with us the most unforgettable experience during your study at CUHK?
While I would surely love to mention that I met my wife during the CUMBA, I better share a different moment that really sticks to my mind.
I was one of the five international students who flew all the way to the USA to represent CUMBA in the final round of the Innovation Challenge at the Darden Business School. To enter the final round we selected the topic of how to prevent Aids infection in South Africa. After many sleepless hard working nights fueled by intense brainstorming and caffeine, we were admitted to the final as First Runner-up. Working extremely hard on a concept together with a team and being rewarded with such an opportunity – it is an experience I hope every CUMBA student can have.
In the end, we did not win the Challenge but we did receive the best presentation award. Flying all the way to America and being one of the best from thousands of teams worldwide is definitely something I will never forget.
-Career in China-
In your opinion, what are the qualities that companies look for when they hire foreigners to work for them in China?
From my experience in Asia, I believe that many international as well as local companies are looking for experts with extensive experience in specialized fields. Bringing in expertise can help to support the rapid market growth, improve the company's internal process efficiency and make it more competitive in the long-term.
Another important quality is to understand different cultures and be open-minded toward different behaviors and traditions. For example, being on time is important to show respect in Germany while it may not be applicable to people in other countries. Being able to understand these cultural differences, adjust to them and consider them in your work makes a tremendous difference.
What advice would you give our current students if they plan to develop their careers in Greater China and Asia?
When I look at my experience and at the application phase right after my MBA, I would give three pieces of advice:
"Build up experience":Try to specialize in a certain field or emphasize your experience during your application phase. Experts are always needed in China.
"Be patient": There are always opportunities but you should consider all the offers very carefully and think about the advantages and disadvantages before you take up a role. Sometimes, as in my case, it makes more sense to go back to Europe first and later on come back to Asia through the same company.
"Learn the language": Speaking Chinese, even if it's only on a basic level, makes a huge difference. People respect you a lot more and companies are looking for candidates not only with work experience in China but also with relevant language capabilities.
-Interesting China-
Did you experience any cultural shock after moving to China?
One thing struck me when I firstly started to drive in China. I found it very interesting from both a cultural perspective and in relation to business. I found many bicycle drivers do not look to the side or behind them when they overtake cars or turn. In Germany this would be suicidal but in China the system seems to work just fine. In fact, acting first and solving problems when they arise is very common when Chinese people do business. They may not need complex analysis and scenario plays to make a decision. They often follow their instincts and acute sense of the market, dash forward to catch the opportunity, and then solve problems during the process. This can actually give you an advantage when entering fast growing markets and taking a leading position while dealing with obstacles in parallel.
Another observation that always makes me smile is that people tend to keep their ring tones on in big offices and seem to be very creative about their tone selection. Sometimes you hear a dog barking or even Donald Duck, who tells you to pick up the phone. I can't remember having seen such creativity in Germany.