Get Up Close and Personal with Real Business Problems
With our Business Practicum course, students take their skills learned in the classroom to the workplace. You will have a chance to participate in a team project and see how your business ideas, models, and hypotheses play out in the real world. You will meet and interact with real-life business professionals, deal with true deadlines and resources, and gain fresh perspectives as you seek new ways to solve a business challenge.
Participation Details
Sponsored by diverse Hong Kong corporations, each project is undertaken by a team of three to five students and supervised by a faculty member. A senior staff of the sponsoring company also joins the team as supervisor to support the successful completion of the project.
Students spend an average of one day a week on their project, which covers one term as published by the university calendar. A project proposal must be approved by the supervising faculty member, the Director of MBA Programmes, and the Director of the sponsoring company.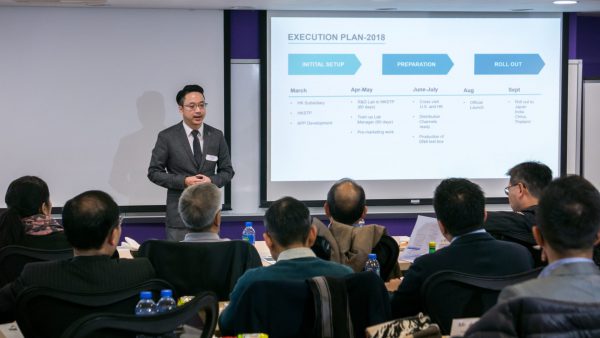 ---
Business Practicum Project Highlights
Project Highlights
Finance emerged as the leading project topic among the annual Business Practicum projects undertaken by the students in the past few years. Learn how these projects have made an impact across different business sectors.

Finance
The Chinese market was looked at from the point of view of opportunities and risks posed by the reform of Chinese state owned enterprises, factors affecting the growth and competitiveness of Chinese investment banks in G3 currency fixed income, long term, fixed income strategy for securities, Chinese investment in Cambodian agriculture and similar-company pricing.
Marketing research included marketing financial services to the Capital Investment Entrant Scheme segment, A-Share exit strategy alternatives for private equity investments, a strategic plan for a bank to remain competitive in working capital finance, market potential of Asian securities lending, digitalization in SME lending, improving broker experience and crowd management, and the structure of a centralised library to cater for the future trend of robotics reply, among others.
Technology
Established and start-up technology firms participated in the Business Practicum with projects including online platforms, applications, social innovation, software and business development. While most of them restricted research to the Hong Kong market, a few were also interested in China.
Several looked for an analysis of potential customer segments, market testing and validation of business assumptions to kick off a service. Others, such as a cloud-based pay-as-you-use platform and an anti-phishing software and app, wanted to see the opportunities for a scalable business model and marketing strategy for growth.
Research included chief information officer preparedness to build digital intelligence capability and support digital transformation to take their enterprise into the next "Cognitive Era". Challenges and solutions were also looked at.
Fashion
One project assisted an established fashion and apparel product company to test the feasibility of a comparison website and smartphone app for branded ladies' fashion products. The website, similar to those used in the airline industry, would allow people to compare prices before they buy.
Another project presented a qualitative marketing research on the size of the shoe market in Hong Kong and China, analysis of three relevant competitors' businesses and qualitative consumer research on the opportunities for business improvement. The company is working on 3D measurements for ordering shoes online.
A new fashion marketing concept, which would use crowdfunding to get the size of demand before production, was also in need of a marketing strategy to successfully launch the business.
Transport
Hong Kong is well known for a high consumer demand for wine. An established transportation company wanted to explore demand for specialist delivery of wine, with special attention to the fragility of bottles and sensitivity to changes in temperature. The project was launched to formulate a marketing strategy for the new potential market, find out the size of demand and whether customers were willing to pay for this specialised service.
In another case, the transportation company delivering to Hong Kong sushi chains noticed that the restaurants had problems with some logistics companies and were not satisfied with transportation costs. They wanted to conduct a feasibility study for supplying Japanese companies in Hong Kong.
Healthcare
With the fast increasing elderly population in Hong Kong, a product which can help osteoarthritis – a common degenerative disease of the joints affecting old people – should be popular on the long run. As a start-up, the company turned to CUHK MBA students for a well-designed business strategy testing the acceptance of the new product among healthcare professionals.
Another project objective was to help a foreign company to re-launch in Hong Kong its flagship product, a toothpaste that inhibits the development of night-time bacteria, to a specific target market. The students worked out a business and marketing plan to promote the product to people who work in the banking and finance industries.
Hotel and Tourism
An international luxury hotel chain worked with the students to formulate a set of global strategies for its rapidly expanding portfolio now spanning four continents. The chain wanted to create a set of competitive advantages for the group that would help them seize opportunities with agility and respond aggressively to rapid market changes and strong competition by other luxury brands.
A year later, the same hotel chain launched a project to work on a brand strategy for their luxury chain. They identified and evaluated market trends and opportunities, researched customer groups and examined the competitiveness of major players to develop a brand strategy which created competitive advantage for the group.
Property
A Hong Kong headquartered leading property company conducted a project on investigating their brand pillars with primary research on customer groups and secondary research on brand equity. The Hong Kong listed company has an extensive international portfolio of office, residential, retail and hotel properties.
They wanted to prepare for any future changes in the business climate by formulating a set of effective business strategies that can provide aggressive and immediate response to market needs and build a brand that is dynamic, flexible, customer centric and forward-looking.
---
The business practicum project exposed me to a new industry in luxury fashion, recommending innovative business strategies, especially in sustainability, to the management at retail company Lane Crawford. Through this experience, I honed my client management skills, preparing me to be a consultant after graduation.