Summer Internship at Casetify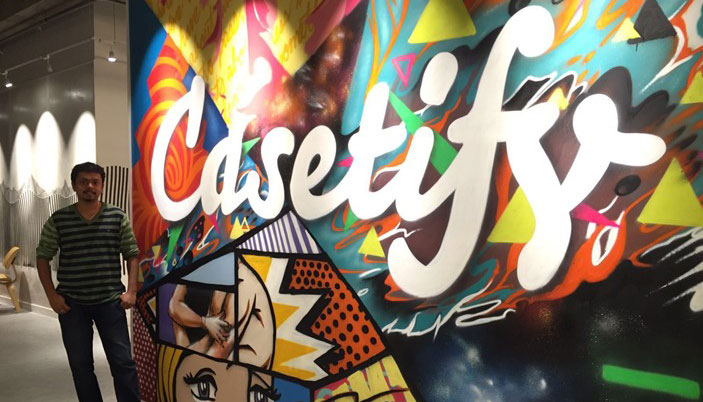 Casetify Limited (formerly Casetagram) is the world's 3rd largest tech accessories firm (2nd in U.S) with its Headquarters in Silicon Valley and Hong Kong. It has regularly featured in the Wall Street Journal and Bloomberg TV. Casetify designs and manufactures customized cases for android phones, iPhones, MacBooks, Apple Watch bands using photos from Facebook, Instagram and other social media websites and sells them on various channels. Its products are available on various reseller platforms like Amazon (U.S, U.K and Germany), Fancy, Shop Spring, OpenSky etc. Casetify products are available in more than 150 countries via world-wide shipping.
I had contacted the 'Head of Social Media Marketing' on LinkedIn and had subsequently appeared for 2 rounds of interview and a written round. My honest advice to any aspiring marketing (especially social media & business development) intern is to be data-oriented, numerically strong and creative especially in understanding your consumers.
I joined Casetify subsequently and, from thereon the experience has been truly EXHILARATING! The culture is quite casual (no dress-code) and being a concept office, the lounges, the sofas, the reception, the bar (Yes, you heard it right!) is truly exotic. From the work perspective, I was given major responsibilities from Day 1. Learning about the tech consumer goods industry has been immense and unique since it is quite different from the traditional consumer goods sector that I previously worked in. I am tasked with the entire reseller business development of ShopSpring reseller platform, wherein my main target is to ensure growth and profitability of the platform through number of measures mainly marketing and distribution strategies. I also design marketing campaigns (cards, product listings) on ShopSpring and Fancy.com.
I am truly happy with the way things have panned out for me at Casetify. The functional as well as the soft people skills acquired in Casetify will go a long way in defining me as a responsible sales & marketing professional especially in Hong Kong!
Arnab NEOGI
Full-time Class of 2017