Summer Internship at Jardine OneSolution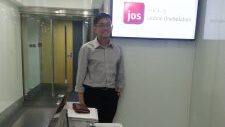 Thanks to the Career Planning & Development Centre and the MBA Career Management Centre, I joined the Global Internship Program (GIP) at Jardine OneSolution China Limited (JOS) at Shanghai for 6 weeks from June to July 2015.
JOS works on providing IT products and services to corporate clients. As a trainee of the Finance and Accounting Department, I assisted my colleagues in credit controls to follow up collections, verified supplier's invoices with ERP system records and prepared related vouchers, and thus acquired good understanding to the Value Added Tax (VAT) practices of China. During the process I also learned great teamwork and communication skills. This hands-on experience gained by working in a corporate setting in China is very valuable to me and it has enhanced my adaptability when working in a new environment.
The GIP program has also brought me to other exposures outside of work. I attended company visits and listened to sharing from guests from various background who work in Shanghai. These activities gave me insights on how people achieve success and also deepened my understanding to the latest economic development of the city. I am glad that I have applied my learning from my MBA studies to leave my comfort zone by going to Shanghai. I am fortunate that some nice colleagues were willing to exchange ideas on working and living in China. In addition, my manager also gave me advice and suggestions on my future career path.
To conclude, the summer internship inspires me a lot and gives me a lot of fond memories. I would like to especially thank Marjorie Chang for providing me with opinions and encouragement to join the internship.
Jason YEUNG
Full-time Class of 2016