Summer Internship at Pivotal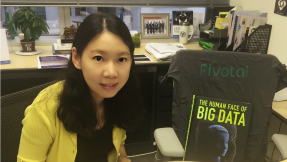 Thanks to CMC, I was able to connect with Pivotal, a striking start-up software company, and got the opportunity to take up this summer internship at their product strategy department. With a close relationship with EMC, Pivotal Software, Inc. is based in Palo Alto, California and we provide software and services for the development of custom applications for data and analytics based on cloud computing technology.
My job is sales enablement. Apart from supporting the Director of Product Strategy in collaboration with the corporate field enablement team members, I develop content for new hire training and other effective sales enablement collateral in APJ for the sales team. The objective is to provide sales team with different kinds of successful cases to convince customers.
First of all, I have to learn about the main products, and then read related materials to acquire useful information from current deals. After that, I pick up some key customers from different industries and confirm with the district sales managers. Secondly, through communicating with the sales teams, I develop and organize the key customer business cases and winning stories. In turn, the Director of Product Strategy would give me feedback and suggestions.
The experience in Pivotal is invaluable to me as it allows me to understand the industry: the software world is changing quickly, and the only way for enterprises to stay relevant is to change with it. It is critical for us to take initiative to influence and shape the outcome we desire. I greatly appreciate the experience.
Iris HUANG
Full-time Class of 2016