From 996 to MBA to living a fuller life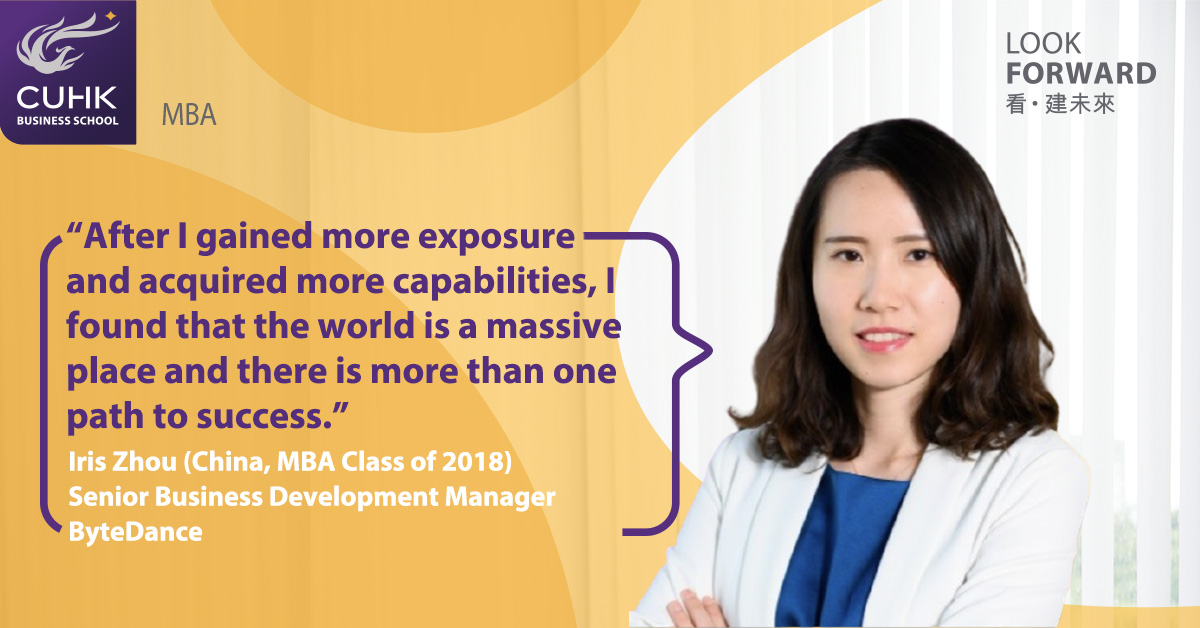 Ever since I graduated from university, I have worked only at tech companies. All along, I thought the "996" work culture (working from 9 am to 9 pm, six days a week) was the only way to succeed in the business. When I landed a job at my dream company, Tencent, I thought I would just follow this lifestyle, work diligently and stay with the tech giant for the rest of my career. That was until I joined the MBA programme of The Chinese University of Hong Kong (CUHK) Business School. It was there that I completely changed my thinking.
Gaining new perspectives on myself and the world
Having spent years building my career, I knew I needed to learn continuously to enhance my competitiveness. I wanted to study while I worked and to expand my global network and improve my English. After considering many schools and many programmes, I decided to enrol in CUHK's MBA programme as it is only half-an-hour away by train from Shenzhen, where I live and work.
In the past, most of my time was spent in the office or in familiar domains. After joining CUHK and meeting more classmates and teachers from different industries and countries, I was intrigued by their unique life journeys and the career planning they had done. As I listened to them set out their career paths and share their plans on achieving their career goals, I realised that I too had the opportunity and capacity to try out different fields, environments and lifestyles in different parts of the world. I understood that I could challenge myself, break out of my comfort zone and my mould and expand my horizons.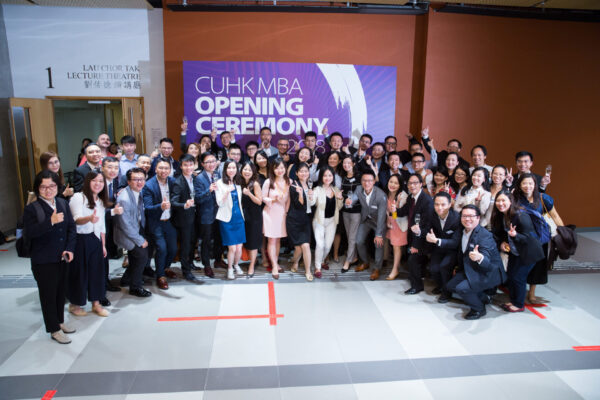 Heading to Google Japan
During my second year of MBA studies, my headhunter arranged for me to attend an interview with Google in Japan. If I had been the old me, I would probably have declined the opportunity. But the new me was eager to step out of familiar surroundings to experience other places around the world.
I successfully landed a job at Google. As I could not speak Japanese fluently, I could only use English to communicate and to fit in with the local culture and environment. Having to adjust to a new culture and a new work environment, while continuing my studies, was a massive challenge. Fortunately, I was learning some effective communication skills from the MBA programme, and these helped me communicate with my supervisors and subordinates and build up my confidence. The programme also developed my strategic and data-oriented thinking, enabling me to organise my work and my presentations and to make effective decisions. Although the learning process demanded a lot of time and energy, I came to appreciate the boost in efficiency I got from the knowledge I gained. For this reason, I insisted on flying back to Hong Kong once a month to attend classes, coming home on a Friday night and heading back out to Japan on a Sunday night. During my time at Google, I also continually finetuned my working style to enhance my productivity, so as to spare more time for my MBA studies.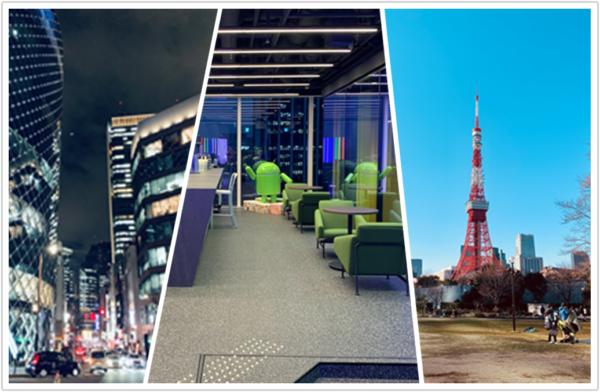 Returning to China to join ByteDance
From the MBA programme, I learnt a lot about macroeconomics and gained a gamut of technical skills that allowed me to value companies and forecast their stock-price trends. After analysing ByteDance's strategic directions and business development plans and assessing the macroeconomic conditions, I determined that this unicorn was a tremendous tech enterprise brimming with potential. So, I submitted my resume and landed a job at the company in 2020.
Working at ByteDance has allowed me to discover my passion for work. I find that I like solving tricky problems for others and exploring new business models for the company. I am no longer blindly following the "996" lifestyle but am maintaining a good quality of life while working wholeheartedly at my job. By maintaining my physical and mental well-being, I am also in a better position to contribute to the company's development, which is a win-win outcome.
Different cultures for different giants
Although all three of the companies that I have worked for were tech companies, they all had vastly different work cultures. In my mind, Tencent taught me to become a more mature person and helped me hone my EQ and communication skills as I fit in. After I joined Google, this working style was no longer appropriate. While the ability to communicate remained crucial, Google emphasised open-mindedness and innovation. They even encouraged me to come up with new ideas and suggestions. When I joined ByteDance, I had another culture shock. This company requires its staff to embrace the entrepreneurial mindset. No one gives me explicit directions at work. It is as if everyone is a start-up or a shareholder and our mission each day is to create value for the company and grow with the company.
There is more to achieving career success than "996"
Tech companies often bring to mind the "996" work culture and the inevitable fate of "goodbye, my hair". Yet having experienced these tech companies I have found that none of this is set in stone. I used to believe that I must work "996" to reach my KPIs. However, after I gained more exposure to the outside world, acquired more capabilities and developed new confidence, I found that the world is a massive place and there is more than one path to success. By continually enhancing efficiency, I achieved a healthy work-life balance. Indeed, working overtime is only one working style, it is not for everyone. I hope that I will have the capacity to help shape this industry's work culture one day and replace "996" with "efficiency", so that everyone can enjoy both work and life. This will enable every techie to maintain their passion for innovation and technology for the mutual benefit of company and staff.
Standing on the shoulders of the MBA programme for expansive new vistas
The me in the past focused only on work, familiar surroundings and company, believing that being sedulous was what I needed to do. After meeting more people through the MBA programme and opening my eyes to the world, I believe that I too can advance through life on my terms and live to my fullest potential in this fascinating field of tech.