How an MBA helped us launch our own tech start-ups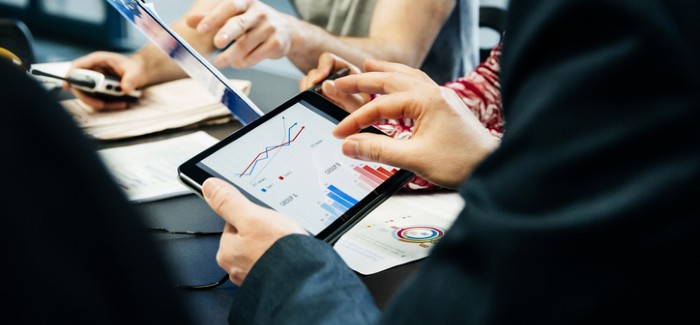 Launching a successful start-up isn't an easy job. Most of the world's most popular businesses – think Uber, Airbnb, WhatsApp and TikTok – were the result of great ideas, ideal timing and solid market interest.
While you don't always need a degree to come up with your own product, studying an MBA can equip you with the skills, confidence, entrepreneurial mindset, network and experiential learning experience necessary to secure funding and get your idea off the ground.
TopMBA caught up with two MBA graduates from the Chinese University of Hong Kong (CUHK)  – Vincent Fan and Kevin Li – to find out how going to business school helped them become innovative tech entrepreneurs.
Fostering an entrepreneurial culture
Vincent founded the smart logistics start-up Zeek, which provides crowdsourcing delivery, Software-as-a-Service (Saas) business solutions and last-mile delivery for international food and beverage brands, fast-moving consumer goods, lifestyle services and e-commerce platforms.
Since launching, Zeek has secured approximately $10million USD in Series Pre-A financing from regional strategic investors and investment funds and is at the top of the Hong Kong Business' 2021 Hottest Start-ups list. The company is headquartered in Hong Kong and is where Vincent undertook his MBA. He believes the environment fostered by the Chinese University of Hong Kong allowed for aspiring entrepreneurs like himself to develop their skillset.
He said: "The entrepreneurship and innovative mindset that I learnt in the CUHK MBA helped me open up to all new ideas, step outside my comfort zone and start a business in a domain – logistics – which I had no previous experience in.
"In addition to general MBA courses, at CUHK we had different concentrations to choose from, and I chose Entrepreneurship & Innovation. Other than the typical MBA case studies, we did various projects simulating how it would be to run our own businesses. The issues that we worked on as part of the course, such as resolving internal conflicts, business negotiations and client relationship recovery, later on became part of my daily life as a start-up founder."
Kevin Li founded his business VoiceAI Technology in 2016 and has since raised approximately $15million USD in Series A financing. The company is a high-tech enterprise centered around AI voice technologies and big data analysis, providing voice-based, anti-fraud solutions and intelligent training systems to financial institutions, governmental bodies and other companies.
While Kevin had already planned to start a business in the AI sector, he says the CUHK MBA became a crucial and transformative step in his entrepreneurial journey.
He said: "I decided to start my MBA journey in 2015. It was during the programme that I met my future co-founding partners of VoiceAI Tech, both of whom are excellent scientists specialised in the most promising areas of AI, such as voiceprint recognition and speech recognition.
"We shared our understanding of how digitalised the future would be and how essential analysing human speech through these technological innovations could be. We had a lot in common and found that we had the potential to start our own business. That's how VoiceAI Tech started."
He added: "CUHK has a very strong entrepreneurial culture, which is perfectly represented by the CUHK MBA programme. Students can easily be inspired by professors, classmates and alumni who already started their own businesses, as entrepreneurship is truly a common denominator between people."
Overcoming challenges
Both entrepreneurs agree that the skills and learnings provided by the MBA allowed them to kick-start their own business ventures more easily, as well as to overcome the challenges that arose when launching their start-ups.
Vincent said: "The most challenging part so far in my start-up journey has been shaping myself up to become an entrepreneur. Zeek has three co-founders who come from IT and consulting, but to run a business successfully, we needed more knowledge than the expertise that we already had. For instance, none of us knew about HR, fundraising and marketing, so when we launched the company, each of us had to take on multiple roles, which was very challenging.
"The CUHK MBA equipped me with a full range of business knowledge, from financial management to marketing strategy, and from leadership development to people management. These skills helped me establish the foundation of my start-up in the early days."
For Kevin, the biggest challenge of starting his business was taking the initial leap.
He said: "The biggest challenge of starting a new business is deciding to take that first step – and two things happened during the MBA that made it easier for me to take it. The first one was a series of visits we had across start-ups in Hongkong, Shenzhen, Beijing, Shanghai and Taiwan. Through those and by being in close contact with entrepreneurs, my understanding of start-ups became more comprehensive.
"The second one was the 2016 CUHK Entrepreneur Day, which was organised by the CUHK Alumni Torch Fund and featured an exhibition, a series of competitions, seminars and various activities to help student entrepreneurs showcase their work. Funnily enough, I came back to this event to compete with my own start-up two years later – and luckily enough, we won the CUHK Entrepreneurship Competition. That was the first contest we ever won, and we only had around 10 employees at the time. That experience truly meant a lot to me as an entrepreneur."
A bright future
Both entrepreneurs have now progressed past the start-up stage and gotten their businesses off the ground – an impressive feat which, they say, would not have been possible without going to business school.
Vincent said: "I never imagined myself running a start-up, and logistics was never my first choice. However, opportunities come from your daily life, so seize them when they come. The MBA was a controlled and managed environment where I could try things I couldn't in my daily work life. Indeed, the post-MBA results surprised me!"
Kevin added: "It's too early to say I'm successful yet, but the entrepreneurship I learned at CUHK will always encourage me to keep moving forward."